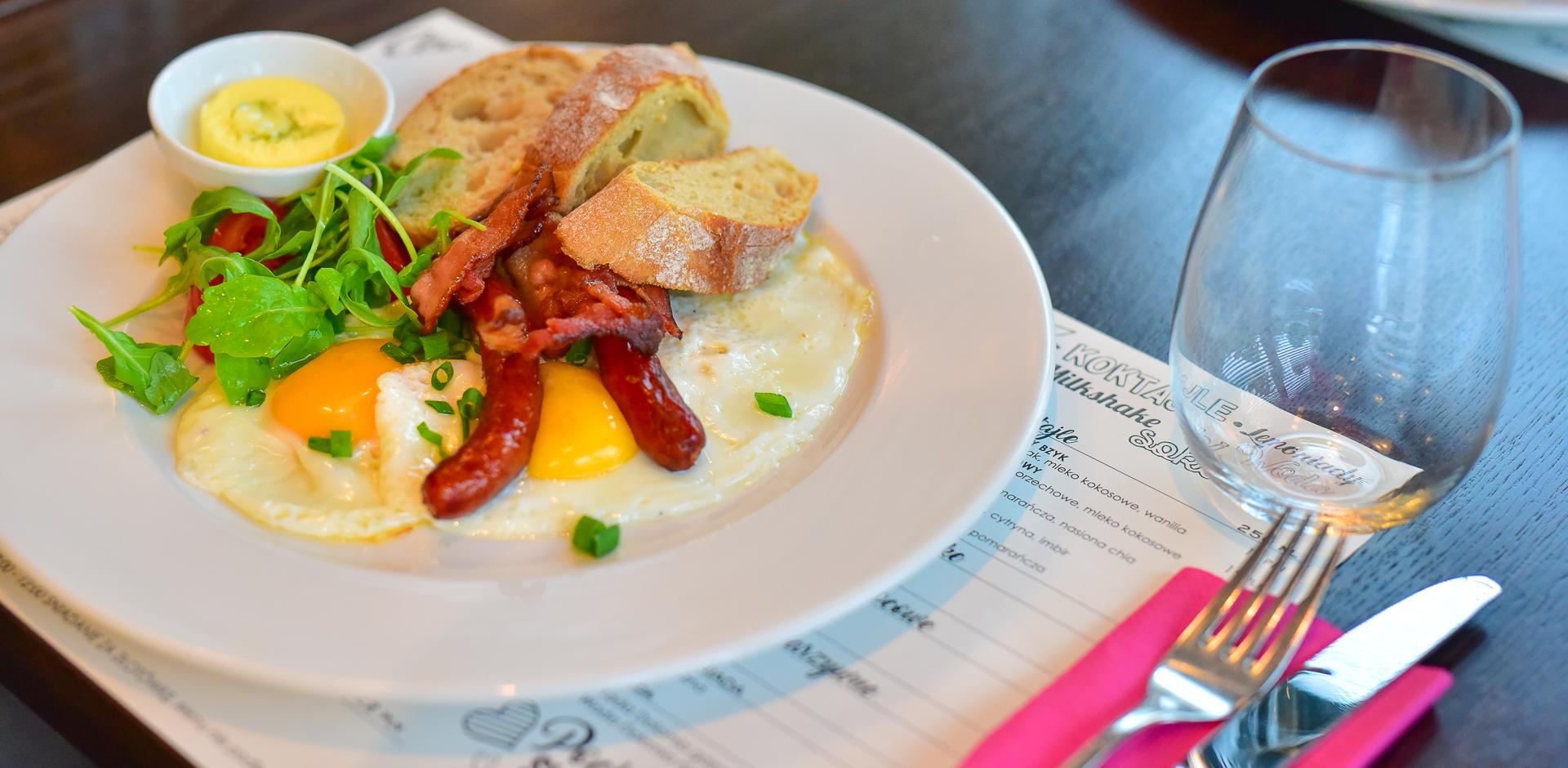 English

Breakfast is the most important meal of the day. So let's eat something nutritious, delicious and inexpensive.
The rules are simple - You order coffee or tea and get breakfast for PLN 10.
We invite you for breakfast:
Monday-Friday 8:00 a.m. -12:00 p.m.
& Saturday, Sunday 9:00 a.m. -12:00 p.m.
BREAKFAST MENU - PDF

 

GOLDEN  PANCAKE

/three pieces of pancake, banana, popcorn, salted caramel sauce/

 

200 g

 

19 zł

 

Vege Frittata

/omelette with three eggs with zucchini, olives, capers, dried parts and arugula/

 

200 g

 

19 zł

 

Bountiful breakfast

/two fried eggs, grilled sausages, bacon, tomato, arugula, baguette, herb butter/

 

200 g

 

22 zł

 

Salmon & Eggs

/smoked salmon, two eggs poche, ricotta with chives, fresh spinach, wholemeal bread/

 

200 g

 

22 zł

 

Ample breakfast

/scrambled eggs (four pieces) with ham and chives, served with cucumber, tomato, baguette and herb butter/

 

200 g

 

22 zł

 

Shakshouka

/pita, two eggs, olive oil, peppers, tomatoes, cumin, coriander, onion, parsley/

 

260 g

 

22 zł
SEE OUR LUNCH

 

NAVONA TEA 

Mango Spice /tea blending, mango, chili, orange, grapefruit, cloves/
Apple pie /tea blending, apple, vanilla, cloves/Ginger /tea blending, orange, cloves, ginger, 
Ginger /tea blending, orange, cloves, ginger, cardamom, star anise, cinnamon, raspberry syrup/

 

350 ml

 

15 zł

 

Ronnefeldt TEA

Darjeeling Summer Gold / English Breakfast / Earl Grey / Green Dragon / Verveine / Rooibos Cream Orange / Sweet Berries / Jasmine Gold / Moroccan Mint / 

 

450 ml

 

13 zł

 

Espresso 

 

30 ml

 

8 zł

 

Espresso Doppio  

 

50 ml

 

12 zł

 

Americano

 

125 ml

 

12 zł

 

Cappuccino 

 

150 ml

 

12 zł

 

Latte

 

200 ml

 

12 zł

 

Corretto

 

50 ml

 

15 zł

 

Decaffeinated coffee

 

150 ml

 

12 zł

 

Navona coffee

Vanilla / Coconut / Chocolate / Nut / Caramel

 

220 ml

 

15 zł